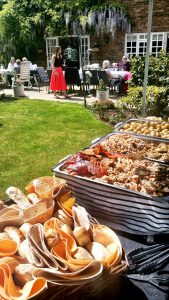 Thanks for visiting Hog Roast Selby, the number one provider of delicious hog roast catering throughout North Yorkshire. We'd like to begin this About Us section with a big thank you. We know that planning a party or event is a huge task, and that providing a mealtime focal point for the day that treats all guests to something special is a tall order. With over a decade of experience in hog roast catering, our skilled team of hog roast chefs is here to help you make the most of your day, serving up delicious plateful after delicious plateful of roasted meat and side orders of your choice.
Event & Celebration Catering
Planning any kind of event or celebration takes time and energy. In particular, ensuring that the shared meal time experience is a stand out highlight can be daunting. There are lots of elements to consider, like the age of the guests, the time of day the food is to be served and how many servings are expected, and whether you'd like to seat your guests. Hog Roast Selby can help. Speak to us today about your plans and we will provide delicious and succulent hog roast catering whatever the occasion – our staff work hard behind the scenes to provide nothing but the very best in bespoke party catering.
Events & Celebrations include:
Weddings – We'll discuss every aspect of your big day with you, ensuring that we provide special menu options for all of your guests – leaving you to enjoy your time with family & friends.
Private celebrations – Private celebrations could include garden parties and venue bookings – let us reassure you that our hog roast machines require very little space regarding our setup.
Charity events and corporate days – Charity functions and corporate events are great opportunities for people to meet – give them the ideal conversation starter with delicious hog roast catering.
Indoor and Outdoor Catering
If you're looking forward to your big event or celebration and you're wondering whether hog roast catering can form part of your indoor or outdoor plans, let us reassure you that our expert hog roast catering services are capable of operating both indoor and outdoor, in confined spaces if necessary. Our machines (and chefs!) require very little room in which to work. Speak to a member of our team today to discover how we could help you to deliver plateful after plateful of delicious and aromatic hog roast meat whatever your party plans. Hog Roast Selby is here to make your ideal event or celebration come true.
Hog Roast Machine Hire – Selby
If you feel that you'd prefer to give our chef's the day off and instead take over the chef's hat at your event or celebration, we can help. Hog Roast Selby offers machine hire options to accommodate your self-cheffing plans. We'll provide the hog roast machine, all the ingredients of your choice, and extras including gazebos and serving tables and gas canisters. We'll give you a quick tutorial, too, and even arrange pick up at a time to suit you.